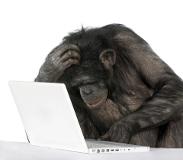 A rare photo of the reclusive author trying to work out how to turn on his laptop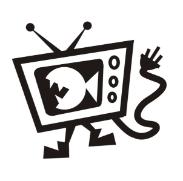 About Paul Samael
Paul Samuel writes fiction. Here's a brief summary of my life to date:
After a spell in the SAS, Paul Samael worked undercover for the CIA on a mission to infiltrate a vicious gang of Colombian drug smugglers and drive a stake through the heart of their leader (who was a vampire), whilst simultaneously thwarting the plans of sinister men in the Pentagon to do sinister things with mind-controlling drugs (his recall of events from this point on is a little hazy). Anyway, on his release from hospital, he suddenly realised that what he had really wanted to do all his life was write literary fiction, which - as you can see - he is taking very seriously indeed.
Re-reading the above, it occurs to me that it may have been a mistake to write my web-bio shortly after receiving a bad review of the opening chapters of my novel (on a peer review site) from a self-described "action junkie", who lamented the lack of car chases, explosions, scenes of torture etc (I should point out that I had categorised my work as 'literary fiction', which is not a genre widely recognised for its edge-of-the-seat action sequences).
The truth, as usual, is rather more mundane - I have a day job working in an office, am married with two children and have published two not terribly successful non-fiction books under my real name (Paul Samael is a pen name). If you are curious to know why I have opted for the self-publishing route, see this blog posting.
I have recently published an ebook edition of my novel, together with some shorter pieces. I also review free fiction by self-published authors on Smashwords and other sites, my aim being to demonstrate that "free" and "self-published" don't always deserve the stigma that's sometimes attached to them. For a list of all the book reviews on this site (both free and paid-for books), click here.
For anyone not satisfied with the above and eager to know more (what's the matter with you? haven't you got better things to do?), here's an interview I did for Tom Lichtenberg's excellent blog, Pigeon Weather Productions and here's another interview I did for my Smashwords page.