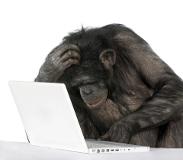 A rare photo of the reclusive author trying to work out how to turn on his laptop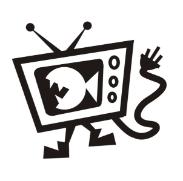 ABOUT PAUL SAMAEL
Paul Samael writes fiction, all of which is available free (in ebook format). I also review free fiction by other self-published writers and write a blog (see below). Paul Samael is a pen name. He doesn't really live anywhere, except cyberspace. The real me lives in London, UK. On this site, you can find:
For anyone eager to know more (surely you have better things to do?), here are some links that may or may not satisfy your curiosity (see also the timeline below):
TIMELINE
Jul 2011 - started this website, having decided (after much dithering) to self publish my novel. Had been writing the novel on and off for some considerable time (another process that involved much dithering). At the time, I feared that self-publishing it might well turn out to be something of a futile gesture - but I've been pleasantly surprised by how it went (see below).
Aug 2011 - put excerpts from novel on peer review site YouWriteOn. This was partly with a view to getting some reviews (click here for my take on whether it's OK to use the good ones to publicise your book) - and partly just to convince myself that it really was worth putting it out there in front of the wider world.
Nov 2011 - published short story "The Hardest Word" on Smashwords. The idea was to get some get some experience of the self-publishing process before publishing the novel. I also thought that if I had a few shorter pieces available, people could try those before embarking on the novel (but not convinced this strategy has actually worked).
Jan 2012 - published short story "Agricultural Production in the Sudan."
Feb 2012 - started doing reviews of free fiction by self-published authors on this site.
Jun 2012 - after quite a bit of rewriting and some more dithering (there's a bit of a theme here, isn't there?), finally published my novel.
Nov 2012 - novel pirated on Amazon. Can this really be considered a publishing milestone? Well, conventional publishers may not have been interested, but some very discerning Chinese pirates obviously saw its enormous sales potential....
Jan 2013 - novel reached over 1000 downloads on Smashwords.
Mar 2013- published short story "The Pick Up".
Sept 2013 - published novel on Obooko (another ebooks platform)
Oct 2013 - published short story "The King of Infinite Space."
Dec 2013 - "The King of Infinite Space" featured in short story compilation "Free Indie Reader No.1."
Mar 2014 - published short story collection "The Hardest Word and Other Stories" on Obooko (features all the short stories listed above, plus an extra one called "Gadara").
2014 - 2018 - haven't written much fiction during this period, partly due to illness, but have kept on with the website, writing about self-publishing, continuing to do reviews of free fiction by self-published authors and occasionally reviewing conventionally published fiction (click here for all book reviews). Also made some valiant attempts to persuade people not to vote for Brexit in 2016. These failed miserably.
May 2018 - started doing more book reviews, covering conventionally published as well as self-published fiction.
Oct 2018 - finally got around to publishing novel on Amazon using Kindle Direct Publishing (KDP). Sat back and watched it storm the bestseller list (ha! if only....).
Oct 2020 - published the novel on its own dedicated website, so that people can easily read it on any web-enabled device (without needing to download it as an ebook). If you're interested, this also includes a collection of poems (several of which appear in the novel, although the longer ones don't).
March 2021 - managed to persuade Amazon to make the novel available for free. Hoping this might enable me to improve upon the pitiful number of downloads it has garnered to date via Amazon...
April 2021 - over time, my novel has garnered a reasonable number of positive reviews and now has over 9000 downloads on Smashwords. The short stories have had between 600 and 2385 downloads to date (depending on the title and how long it's been available), together with some positive reviews as well. I've probably had a few thousand more downloads in total via other sites such as Feedbooks (now defunct) and Obooko. Of course, it's unlikely that all those people who downloaded my stuff have actually read it - but it's a lot better than I expected when I started out (and making it free has meant that I haven't had to invest loads of time in promotion).
As for downloads via Amazon, I've done a bit of promotion (mainly submitting it to various ebook listing sites) but so far there's not much to show for it (despite trying to up my promotional game a bit more recently). Making it free has improved its ranking a bit - so whereas in November 2020 it was last seen languishing at number 2,768,252 in Amazon's bestseller list, it's now listed as number 20,617 in "Free in Kindle Store", number 66 in "Metaphysical & Science Fiction ebooks" and number 148 in "Literary Fiction (Kindle Store)". Woohoo. But we're still talking only a handful of downloads. I console myself with the thought that there must be worse-performing titles (probably not many though....).